Derfor elsker jeg The Masters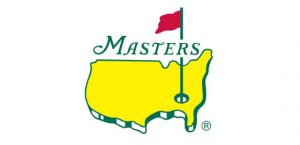 Endelig er det blevet tid til årets første major, og det er ingen hemmelighed at jeg synes The Masters, eller US Masters som nogen stadig kalder den, er årets fedeste golfturnering.
Jeg har været så heldig at være til stede på de hellige jorde i Augusta hele syv gange, og har hver gang haft en af de bedste uger i mit liv. Nedenfor har jeg skrevet om et par af de ting, der gør at The Masters er nummer et på min liste over golfturneringer:
Samme bane
The Masters er den eneste af de fire majors, der spilles på den samme bane hvert år, og det er en af grundende til at turneringen har fået den status den har. Augusta National er noget ganske særligt. Vi kan alle huske et særligt slag, et specielt hul eller noget tredje, og vi har gennem årene fået opbygget et kendskab til banen, der gør, at det er helt specielt når det igen bliver den første uge i april.
Der er ikke et græsstrå, der vender forkert, hverken på selve banen eller ude blandt tilskuerne. Alt er så smukt og perfekt, næsten for perfekt kan man nogle gange tænke, men det er en del af hele Masters/Augusta National oplevelsen både som seer og som tilskuer onsite.
Masser af traditioner
Selvom det er den yngste af de fire majors, så er der så mange fine traditioner som klubben sørger for bliver vedligeholdt og som spillerne bakker op om, og som igen er med til at gøre turneringen til noget helt særligt. Tænk bare på Champions Dinner, hvor alle tidligere vindere spiser sammen i Champions Locker Room tirsdag aften, og får serveret en menu bestemt af sidste års vinder. Caddies, der skal bære de hvide kedeldragter med grønne Masters kasketter, en uniform, de faste caddies i klubben altid har båret, og som de professionelle caddies nu tager på med en vis form for stolthed.
Det er også blevet en tradition at alle tidligere vindere må spille en runde om søndagen med en ven, og her ser man bedste venner, fædre, sønner eller kærester, der får lov til at spille banen dagen før resten af feltet kommer og træner.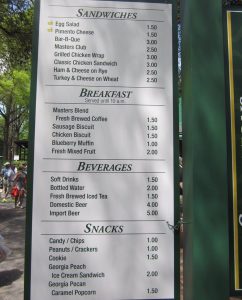 Sandwich til 1,50 $
Billetterne til Master er ikke dyre, det koster ca. 1500 for alle fire turneringsdage, at de så er rigtig svære at få fat i er en anden historie, men når man først er indenfor portene, behøver man ikke have den store pung med. Maden har altid været billig, og en sandwich til 10 kr., kan man vel ikke engang få en kantine på en skole herhjemme. Tilskuerne skal opføre sig ordentligt, men de er "vores" gæster, og bliver behandlet sådan. At man så nemt brænder flere hundrede dollars af i souvenirbutikken er en anden historie.
First movers
Selvom mange ofte kritiserer Augusta National for at være stokkonservative og leve i sin egen verden, så har turneringen, og dermed klubben, været fremsynede på en række punkter gennem årene. Det var fx ved The Masters at man første gang benyttede over/under par når man refererede til scoren på banen.
Det er også Augusta National, der står for Drive, Chip and Putt turneringen, for børn fra 6-16 år, der hvert år spilles over alt i USA med en afsluttende finale på selve Augusta National, hvor præmierne uddeles af tidligere vindere. Og senest har de annonceret en turnering for de bedste kvindelige amatører med start i 2019.